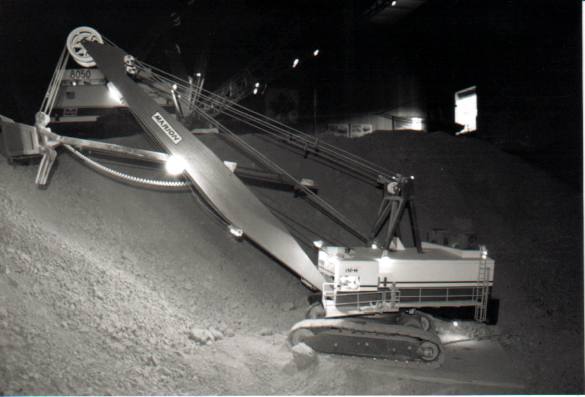 MARION 201-M CRAWLER SHOVEL
This model was built by Dan Aust.
This model also has a full size off-board operators cab just like the draglines.
Electricity is provided to the shovel by way of slip rings. Whereas the draglines are done by the use of wire into the tub and up through the center pin.
Electric control is by a special variac DC system. The hoist ,crowd and swing motors are DC shunt type while propel is of the permanent magnent type. The propel motors are mounted in the lower crawler frame and provide independent-counter rotation steering. One motor for each track. The dipper door is opened by the use of an electric solenoid.
This model was completed in 1984 and operating ever since. It had started out life as a Marion 195-M crawler dragline. It was later retrofitted to a shovel. The boom, mast and dragline bucket are still in the building to this day.
Specifications:
| | |
| --- | --- |
| Scale-18 to 1 | Power input-120 VAC |
| Weight-600 lbs. | DC hoist motor-1 |
| Weight of counter ballast-185 lbs lead shot | DC crowd motor-1 |
| Boom-4 ft. 3 in. | DC swing motor-1 |
| Hoist cable-2 | DC propel motors-2 |
| Crowd cable-1 | Color-Red and White |
| Retract cable-1 | 27 cu. yd. scaled shovel bucket |