Welcome To
Dragline World
www.draglineworld.net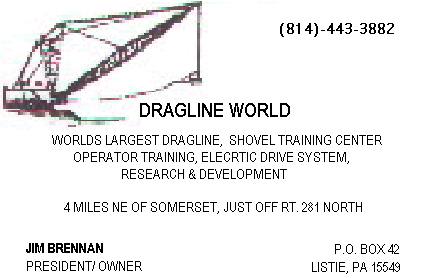 Operator Training,
Electrical Training,
Electrical Repair,
Troubleshooting of Dragline Electrical Systems / Components.
I would like to thank all of you people who read about my models and invite everyone to take a tour with us here at DRAGLINE WORLD.
Remember to write me at the above address or call me at 814-443-3882 for pictures, videos or an appointment.
Thank you,
Jim Brennan
Please, Contact us, to schedule a visit or inquire about our training services.